Exclusive distributor of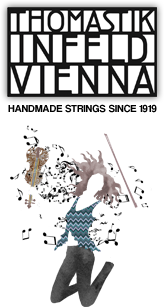 About Thomastik-Infeld
A company with tradition: Over 100 years in the heart of Vienna
In 1919, two former officers of the Austrian monarchy, violin maker Dr. Franz Thomastik and civil engineering specialist Otto Infeld, decided to become collaborators. They co-founded Thomastik-Infeld, invented the steel string, and caused a revolution in the music world.
Suddenly the conventional gut string was challenged by a new string with the highest quality of tone, precision, and reliability. It was received enthusiastically by virtuosi across the world.
To this day, an enormous variety of strings with this new exciting sound for bowed and plucked instruments are produced at the home-base of Thomastik-Infeld, right in the heart of Vienna, the world´s music capital.
Thomastik-Infeld constructs and manufactures machines for producing strings in its own workshops. With a staff of 190 people, it produces over 3,000 different strings each year and exports 97% of them to more than 100 countries.

Connolly Music Company and Thomastik-Infeld have been partnering together to bring you the finest strings for over 50 years. Connolly is a leader in orchestral products in the United States.
Masterpieces: Tradition And Quality: Why are Thomastik-Infeld strings so unique?
The string makes the music. The diversity and beauty of the musical timbre depend upon the type of material used for the core and the material spun around the core.
For a perfect sound, Thomastik-Infeld has consistently chosen steel and nylon as the stringcore material for bowed and plucked instruments. Many revered bowed string players as well as guitar and bass aficionados rely on the serious quality of Thomastik-Infeld strings.
The company, in collaboration with many stars of classic, jazz and pop music, has become an industry leader in string innovation. Music strings of incredible variety are manufactured. Besides the standard strings, special strings are designed even for the most exotic instruments.
Highest standards are guaranteed by ongoing research in Thomastik-Infeld´s own research lab engaging a team of highly specialized technicians. Every string at Thomastik-Infeld is wound and checked by hand.
The Future of "Sound"
In the world of music, the preferred timbre, technique and art of playing are constantly changing. Thomastik-Infeld constantly observes and analyzes the changing patterns of playing and listening, and they apply the results of this research to string production. In the end, inspiration and imagination are chief guidelines to perfection.
About Connolly Music
Connolly Music Company and Thomastik-Infeld have been working together to bring the finest strings to the US for over 50 years. In addition to being the source and guiding force behind Thomastik-Infeld, Connolly is also the US connection to König & Meyer, Revelle, Magic Rosin, The Realist and a selection of several other best-in-class brands. Specialists in sales, marketing and distribution, Connolly also carries over 50 well known additional brands for your convenience.